<![if !vml]>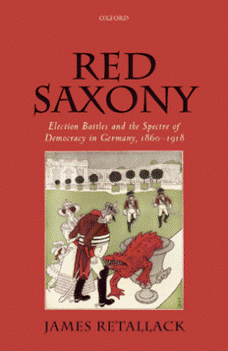 <![endif]> <![if !vml]>

<![endif]>
About the book        About the author
30% off discount flyer  (paperback, $31.50 US)
30% off discount flyer  (cloth, $91.00 US)
Table of Contents – Red Saxony
Table of Contents – Online Supplement
Red Saxony seeks to illuminate the reciprocal relationship between political modernization and authoritarianism in Germany over the span of six decades. Using a regional lens to rethink older assumptions about Germany's changing political culture, the book focuses on contemporary Germans' perceptions of electoral fairness. It devotes special attention to semi-democratic voting systems whereby a general and equal suffrage (for the Reichstag) was combined with limited and unequal ones for local and regional parliaments. Red Saxony illustrates how Germans grew to fear the spectre of democracy. Certainly twists and turns lay ahead, yet that fear made it easier for Hitler and the Nazis to win elections in the 1920s and to entomb German democracy in 1933.
This Online Supplement provides readers of Red Saxony with maps, tables, charts, and illustrations that could not be included in the book's print edition due to their large format or use of colour. These items are complementary to the book: their historical context and significance are explained there.

Materials have been grouped together under the same chapter titles found in the book, with dates added in parenthesis for guidance. Where only abbreviated titles of sources have been given, full references can be found in the Online Bibliography.

From time to time, relevant items may be added to the Bibliography and explanatory notes added to individual documents. The titles of all figures, maps, and illustrations here begin with an "S" (for Online Supplement) followed by a number corresponding to the relevant chapter.

This site is maintained on the server of the Information & Instructional Technology group (FAS IIT) in the Faculty of Arts and Sciences at the University of Toronto.

Published online: April 2017. Always under revision.

Copyright © 2017, 2021 James Retallack. Some rights reserved.


<![if !supportLineBreakNewLine]>
<![endif]>

Except where otherwise noted, content on this Open Access site, Online Supplement to Red Saxony: Election Battles and the Spectre of Democracy in Germany, 1860-1918 by James Retallack, is licensed under a Creative Commons Attribution-NonCommercial 4.0 International License, which permits non-commercial re-use, distribution, and reproduction in any medium, provided the original work is properly cited. The written permission of James Retallack must be obtained for commercial re-use.
Contents
Figures, Maps, Illustrations
Chapter 1 On the Threshold of a New Age (1860–1866)
Chapter 2 The Possibilities of Liberal Reform (1866–1874)
Chapter 3 Enemies of the Reich (1870–1877)
Chapter 4 The Struggle Against Revolution (1878–1890)
Chapter 5 Against Liberalism and the Jews (1871–1890)
Chapter 6 Authoritarianism Under Siege (1890–1894)
Chapter 7 Suffrage Reform as Coup d'État (1894–1902)
Chapter 8 "Red Saxony!" (1903–1904)
Chapter 9 Deflecting Democracy (1903–1909)
Chapter 10 Crisis and Retrenchment (1905–1908)
Chapter 11 Dance (1908–1909)
Chapter 12 Politics in a New Key (1909)
Chapter 13 Adrift (1909–1914)
Chapter 14 Democracy Deferred (1914–1918)
introduction
<![if !vml]>

<![endif]> Map S.I.1
Chapter 1
On the Threshold of a New Age (1860–1866)
<![if !vml]>

<![endif]>Figure S.1.1
Population Increase in Saxony and Other German States, by Period, 1816–1875
<![if !vml]>

<![endif]>Figure S.1.2
Population Growth in Selected Saxon Cities, 1815–1885
<![if !vml]>

<![endif]>Figure S.1.3
Population Density in Saxony and Other German States, 1816–1910
<![if !vml]>

<![endif]>Figure S.1.4
Occupational Profile of Saxony's Population, by Region, 1871
<![if !vml]>

<![endif]>Map S.1.1
Geographic Regions of Saxony, 1910
<![if !vml]>

<![endif]>Map S.1.2
Administrative Regions of Saxony, 1910
<![if !vml]>

<![endif]>Map S.1.3
Population Density in Saxony, 1910
<![if !vml]>

<![endif]>Map S.1.4
Principal Industries in Saxony, 1910
<![if !vml]>

<![endif]>Map S.1.5
<![if !vml]>

<![endif]>Map S.1.6
Deutsches Reich. Verteilung der Bevölkerung in Stadt und Land, 1900
Chapter 2
The Possibilities of Liberal Reform (1866–1874)
<![if !vml]>

<![endif]>Figure S.2.1
Principal Newspapers in Saxony, November 1866
<![if !vml]>

<![endif]>Figure S.2.2
Reichstag Constituency Contests in Saxony, 12 February 1867
<![if !vml]>

<![endif]>Figure S.2.3
Reichstag Constituency Contests in Saxony, 31 August 1867
<![if !vml]>

<![endif]>Map S.2.1
Reichstag Elections in Saxony, February 1867
<![if !vml]>

<![endif]>Map S.2.2
Reichstag Elections in Saxony, August 1867
<![if !vml]>

<![endif]>Map S.2.3
Reichstag Elections in Saxony (legend), 1871–1918
<![if !vml]>

<![endif]>Map S.2.4
Reichstag Constituencies in Saxony (overview 1), 1871–1918
<![if !vml]>

<![endif]>Map S.2.5
Reichstag Constituencies in Saxony (overview 2), 1871–1918
<![if !vml]>

<![endif]>Map S.2.6
Landtag Elections in Saxony (legend), 1869–1895/96
<![if !vml]>

<![endif]>Map S.2.7
Landtag Constituencies in Saxony (rural), 1868–1909
<![if !vml]>

<![endif]>Map S.2.8
Landtag Constituencies in Saxony (urban), 1868–1909
<![if !vml]>

<![endif]>Map S.2.9
Landtag Elections in Saxony, 1869
Chapter 3
ENEMIES OF THE REICH (1870–1877)
<![if !vml]>

<![endif]>Figure S.3.1
Saxon Reichstag Deputies Elected 10 January 1874
<![if !vml]>

<![endif]>Figure S.3.2
Reichstag Constituency Contests in Saxony, 10 January 1877
<![if !vml]>

<![endif]>Map S.3.1
Reichstag Elections in Saxony, 1871
<![if !vml]>

<![endif]>Map S.3.2
Party Bastions in Saxon Reichstag Elections, 1871
<![if !vml]>

<![endif]>Map S.3.3
Reichstag Elections in Saxony, 1874
<![if !vml]>

<![endif]>Map S.3.4
Party Bastions in Saxon Reichstag Elections, 1874
<![if !vml]>

<![endif]>Map S.3.5
Reichstag Elections in Saxony, 1877
<![if !vml]>

<![endif]>Map S.3.6
Party Bastions in Saxon Reichstag Elections, 1877
<![if !vml]>

<![endif]>Map S.3.7
Landtag Elections in Saxony, 1871, 1873, 1875
<![if !vml]>

<![endif]>Map S.3.8
Karte der Wahlen zum Deutschen Reichstag am 10. Januar 1877
Chapter 4
The Struggle Against Revolution (1878–1890)
<![if !vml]>

<![endif]>Figure S.4.1
Bans and Appeals under the Anti–Socialist Law, 1878–1890
<![if !vml]>

<![endif]>Figure S.4.2
Expulsions under the Lesser State of Siege, by District, 1878-1890
<![if !vml]>

<![endif]>Figure S.4.3
Expellees under the Lesser State of Siege, Leipzig and the Reich, 1878-1890
<![if !vml]>

<![endif]>Figure S.4.4
Contested Reichstag Elections, Saxony and the Reich, 1871-1918
<![if !vml]>

<![endif]>Figure S.4.5
Reichstag Election in 5: Dresden–Old City, 1881
<![if !vml]>

<![endif]>Map S.4.1
Landtag Elections in Saxony, 1877, 1879, 1881
<![if !vml]>

<![endif]>Map S.4.2
Landtag Elections in Saxony, 1883, 1885, 1887
<![if !vml]>

<![endif]>Map S.4.3
Reichstag Elections in Saxony, 1878
<![if !vml]>

<![endif]>Map S.4.4
Party Bastions in Saxon Reichstag Elections, 1878
<![if !vml]>

<![endif]>Map S.4.5
Reichstag Elections in Saxony, 1881
<![if !vml]>

<![endif]>Map S.4.6
Party Bastions in Saxon Reichstag Elections, 1881
<![if !vml]>

<![endif]>Map S.4.7
Reichstag Elections in Saxony, 1884
<![if !vml]>

<![endif]>Map S.4.8
Party Bastions in Saxon Reichstag Elections, 1884
<![if !vml]>

<![endif]>Map S.4.9
Reichstagswahlen vom 30ten Juli 1878
<![if !vml]>

<![endif]>Map S.4.10
Chapter 5
Against Liberalism and the Jews (1871–1890)
<![if !vml]>

<![endif]>Figure S.5.1
Saxon Landtag Deputies, Occupation and Party Affiliation, 1869–1918
<![if !vml]>

<![endif]>Figure S.5.2
Saxon Landtag Deputies, Occupation and Party Affiliation, 1869, 1881, 1895
<![if !vml]>

<![endif]>Map S.5.1
Reichstag Elections in Saxony, 1887
<![if !vml]>

<![endif]>Map S.5.2
Party Bastions in Saxon Reichstag Elections, 1887
Chapter 6
Authoritarianism Under Siege (1890–1894)
<![if !vml]>

<![endif]>Figure S.6.1
Reichstag Constituency Contests in Saxony, 15 June 1893
<![if !vml]>

<![endif]>Map S.6.1
Reichstag Elections in Saxony, 1890
<![if !vml]>

<![endif]>Map S.6.2
Party Bastions in Saxon Reichstag Elections, 1890
<![if !vml]>

<![endif]>Map S.6.3
Reichstag Elections in Saxony, 1893
<![if !vml]>

<![endif]>Map S.6.4
Party Bastions in Saxon Reichstag Elections, 1893
<![if !vml]>

<![endif]>Map S.6.5
Landtag Elections in Saxony, 1889, 1891, 1893
<![if !vml]>

<![endif]>Map S.6.6
<![if !vml]>

<![endif]>Map S.6.7
Chapter 7
Suffrage Reform as Coup d'État (1894–1902)
<![if !vml]>

<![endif]>Figure S.7.1
SPD and Free Trade Union Membership in Leipzig, 1893–1898
<![if !vml]>

<![endif]>Map S.7.1
Landtag Elections in Saxony, 1895
<![if !vml]>

<![endif]>Map S.7.2
Reichstag Elections in Saxony, 1898
<![if !vml]>

<![endif]>Map S.7.3
Party Bastions in Saxon Reichstag Elections, 1898
<![if !vml]>

<![endif]>Map S.7.4
Chapter 8
"rED sAXONY!" (1903–1904)
<![if !vml]>

<![endif]>Figure S.8.1
Urban–Rural Votes in 13: Leipzig–County, June 1903
<![if !vml]>

<![endif]>Map S.8.1
Reichstag Elections in Saxony, 1903
<![if !vml]>

<![endif]>Map S.8.2
Party Bastions in Saxon Reichstag Elections, 1903
<![if !vml]>

<![endif]>Map S.8.3
Gustav Freytag's Reichstags-Wahlkarte des Deutschen Reiches, 1903
Chapter 9
Deflecting democracy (1900–1914)
<![if !vml]>

<![endif]>Illustration S.9.1
"About the Suffrage Riots" (Simplicissimus, 1908)
Chapter 10
CRISIS AND RETRENCHMENT (1905–1908)
<![if !vml]>

<![endif]>Map S.10.1
Reichstag Elections in Saxony, 1907
<![if !vml]>

<![endif]>Map S.10.2
Party Bastions in Saxon Reichstag Elections, 1907
<![if !vml]>

<![endif]>Map S.10.3
Deutsches Reich. Reichstagswahlen vom 25. Januar 1907
<![if !vml]>

<![endif]>Map S.10.4
Reichstagswahlen Januar–Februar 1907
<![if !vml]>

<![endif]>Map S.10.5
Chapter 11
DANCE (1908–1909)
<![if !vml]>

<![endif]>Illustration S.11.1
Suffrage Demonstration in Leipzig, 1 November 1908
<![if !vml]>

<![endif]>Illustration S.11.2
Suffrage Demonstrators in Leipzig, 1 November 1908
<![if !vml]>

<![endif]>Figure S.11.1
Expected Support for Social Democracy, by Number of Ballots Awarded, 1909
<![if !vml]>

<![endif]>Map S.11.1
Landtag Constituencies in Saxony, 1909
<![if !vml]>

<![endif]>Map S.11.2
Grasers Karte von Sachsen ... Landtags- und Reichstagswahlkreise, c. 1911
Chapter 12
POLITICS IN A NEW KEY (1909)
<![if !vml]>

<![endif]>Figure S.12.1
Principal Social Democratic Newspapers in Saxony, 1897–1917
<![if !vml]>

<![endif]>Figure S.12.2
SPD Press, Agitation, and Election Costs in Saxony, 1907–1912
<![if !vml]>

<![endif]>Figure S.12.3
Profile of Landtag Electors, by Occupation and Age, in 1: Zittau, 1909
<![if !vml]>

<![endif]>Figure S.12.4
Plural Ballots Awarded by Category, 1: Zittau, 1909
<![if !vml]>

<![endif]>Figure S.12.5
Reliance on Plural Ballots, by Party and Constituency Type, Saxony 1909
<![if !vml]>

<![endif]>Figure S.12.6
Landtag Deputies Elected, by Constituency, Saxony 1909
<![if !vml]>

<![endif]>Figure S.12.7
Working–Class Voters and Social Democratic Voters, Saxony 1909
<![if !vml]>

<![endif]>Map S.12.1
Saxon Landtag Constituencies (rural), 1909
<![if !vml]>

<![endif]>Map S.12.2
Saxon Landtag Constituencies (urban), 1909
<![if !vml]>

<![endif]>Map S.12.3
Landtag Elections in Saxony (rural), 1909
<![if !vml]>

<![endif]>Map S.12.4
Landtag Elections in Saxony (urban), 1909
<![if !vml]>

<![endif]>Map S.12.5
Landtag Elections in Saxony, 1909: Dresden I–VII
<![if !vml]>

<![endif]>Map S.12.6
Landtag Elections in Saxony, 1909: Leipzig I–VII
<![if !vml]>

<![endif]>Map S.12.7
Landtag Elections in Saxony, 1909: Chemnitz I–IV
Chapter 13
ADRIFT (1909–1914)
<![if !vml]>

<![endif]>Illustration S.13.1
"Gruesome Crime in Berlin" (Simplicissimus, 1910)
<![if !vml]>

<![endif]>Illustration S.13.2
"On January 12th" (Simplicissimus, 1912)
<![if !vml]>

<![endif]>Map S.13.1
Reichstag Elections in Saxony, 1912
<![if !vml]>

<![endif]>Map S.13.2
Party Bastions in Saxon Reichstag Elections, 1912
<![if !vml]>

<![endif]>Map S.13.3
Die Vertretung der Wahlkreise bei Schluß des Reichstags 1911
<![if !vml]>

<![endif]>Map S.13.4
Reichstagswahlkarte vom Januar 1912
Chapter 14
DEMOCRACY DEFERRED (1912–1918)
<![if !vml]>

<![endif]>Illustration S.14.1
"Red Saxonia" (Simplicissimus, 1909)
<![if !vml]>

<![endif]>Appendix S.1
Saxon Election Law of 5 May 1909: Translation (excerpt)  (HTML)
<![if !vml]>

<![endif]>Appendix S.2
Saxon Election Law of 5 May 1909: Localities in 91 Constituencies  (HTML)  (PDF)